Experience chip tuning from RaceChip
Our team develops unique products for you

In 2008, Manuel Götz made his passion for automobiles his career: RaceChip was born. Since then, a continuously growing team of vehicle enthusiasts and engineering fans have worked with passion to develop products and forge ahead with new innovations that give you, our customer, the best driving experience possible.
Power, dynamism and innovation are our priorities, and with our technological expertise combined with our willingness to blaze new trails we've been able to guarantee sophisticated products and absolute customer satisfaction.
100,000 new RaceChip enthusiasts every year
Become one yourself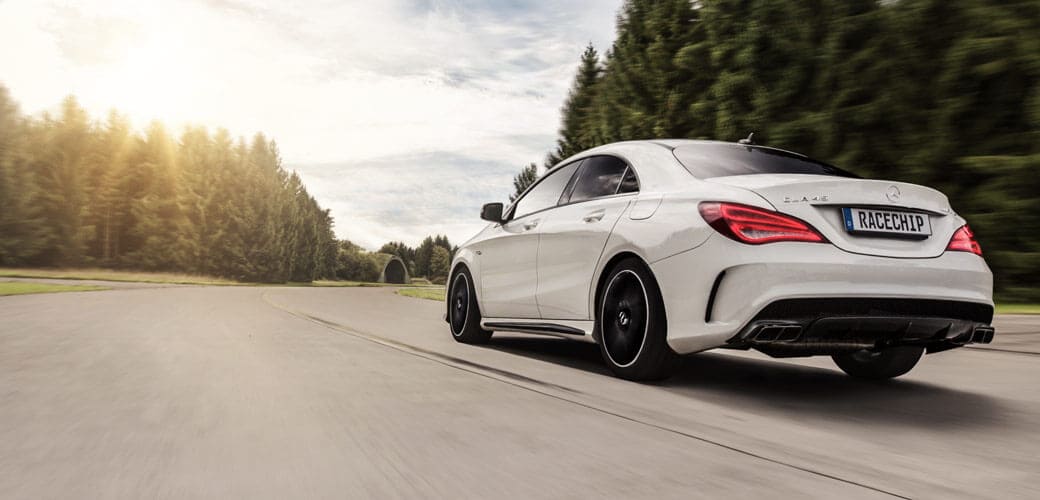 At RaceChip, we place our focus on our individual customers and their driving pleasure. This is what defines our work. What's more, it enables us to develop and produce unique products.
The number of enthusiastic new RaceChip owners is growing every year, which for us is the best possible motivation and reward for our efforts. In this year alone we have added another 100,000 car enthusiasts to our fan base.
Find out for yourself about our one-of-a-kind performance promise.
Individual performance enhancement for over 3,000 vehicles
RaceChip is the expert in electronic performance enhancement

We offer performance enhancements for numerous makes and models that have been programmed to suit each individual engine.
Our portfolio contains a total of approximately 60 manufacturers and over 3,000 vehicles.
Find a suitable RaceChip performance enhancement for your vehicle. FIND OUT MORE NOW
Over 2,000 dealers worldwide
Thanks to our range of reselling partners our products are available all across the worls.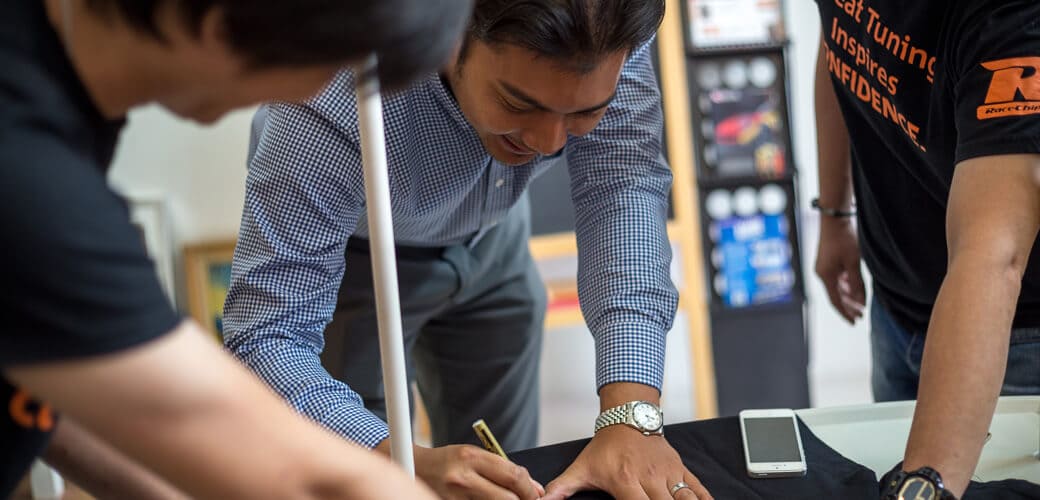 In 2010, we began expanding our dealer network beyond Europe. Today, RaceChip can be found on every continent.
From Germany's Swabian Alb region – the Silicon Valley of the automobile industry – to a global player in just a few years.
Are you interested in becoming a RaceChip reseller?
RaceChip boosts driving fun in over 135 countries
A few years ago we wouldn't have dreamed that RaceChip would have over 500,000 automotive fans as satisfied customers. And these numbers continue to grow rapidly. At present we are adding another 100,000 RaceChip drivers each year.
Within a very short period of time, people from all over the world were impressed with our performance enhancing products "Made in Germany". RaceChip is one in a line of German engineering companies that have achieved tremendous success from launching leading products from a Southern German base.
A team of true petrolheads

Our passion for vehicles motivates us each day to do better than the last and to develop the very best for our customers. Products from automotive fans for automotive fans – because our hearts beat for your engine.
Company history

2016 saw our team grow to over 100 skilled personnel. Sales continued to boom and in January 2016 we sold our 500,000th chip.
Our photo and video team came up with a concept for and shot a TV ad that is going down a storm on German TV channels like DMAX, N24, Sport 1 and Eurosport.
Our products are finding fans all over the world, and we set up the RaceChip China Representative Office in Shanghai where the team is concentrating on developing the potential in the Asian market. The year 2016 also saw the launch of dedicated RaceChip websites for our customers in the UK and France.
There were three changes in the RaceChip car fleet in 2016. The RaceChip Audi RS3 with 410 HP instead of the standard car's 367 HP joined the Macan and the Golf, and drove straight into the starring role in the first RaceChip TV ad. However, the Audi, Porsche and VW will soon be replaced by three new cars which are sure to attract plenty of media attention for RaceChip.
RaceChip was also at the SEMA 2016 show in Las Vegas in 2016 as well as at the Essen Motor Show and the High Performance Days at Hockenheim.
Our fully developed products make any car more powerful, and that means faster. And our new slogan couldn't reflect that in a neater or punchier way: "Simply faster".

A lot changed again at RaceChip in 2015. A brand new corporate design, a new image concept and a new palette of colours combined to give us a completely new look. Our German website was given a thorough overhaul, setting another benchmark in the industry and ensuring that our customers get the most from their shopping experience with us and have access to comprehensive information. Our engineers developed new chip tuning hardware for engines that use SENT protocols, i.e. digital sensors, reinforcing our position as technological and innovation leaders in the industry.
To help us give car enthusiasts a better feel for RaceChip products, we tuned a Porsche Macan Turbo and a VW Golf 7 R and had them both wrapped in the new corporate design. With the RaceChip Ultimate, the Porsche Macan develops an ample 480 HP – 80 HP more than stock. The Golf R produces a healthy 73 HP more with the RaceChip Ultimate, boosting output to 373 HP. Several motoring journalists and bloggers have driven our show cars and have reported enthusiastically about the RaceChip effect in German magazines like AutoBILD Sportscars, GRIP, Maximum Tuner und AutoBILD Tuning. Both the cars were magnets at the Essen Motor Show 2015 and made RaceChip's stand a huge success.
The RaceChip Marketing department team also broke new ground in 2015, creating a promotional film entitled "Live Action Racing Game". The viral marketing video stars the RaceChip Porsche Macan Turbo and the RaceChip VW Golf R.
Our Munich-based Finance, HR, IT, Online Marketing and Business Development departments grew so much that they had to move to new, larger offices.

In 2014, RaceChip reached the magic sales mark of 100,000 units of chip tuning products per annum. More and more customers are convinced of the quality of our products.
The RaceChip Team is now made up of more than 100 staff and, as of 2014, it has relocated to a new, larger and improved site.
In addition, an experienced growth investor has joined the RaceChip Team to ensure that, with our customers by our side, we will successfully navigate the route to sales of 1 million chip tuning products.
As the first supplier on the market, we are always striving to innovate. As further proof of this, we have now developed a chip tuning solution for our customers that can be entirely controlled via the RaceChip smartphone app.
With our RaceChip Response Control accelerator tuning, we have developed a new product line that offers customers a way of individually customizing their vehicle's responsiveness to match their own needs.
We are constantly investing in the continued development of RaceChip. That is why we have now completely revamped our internet presence to offer you, the customer, a specially customized online shop tailored to your needs.

In 2013 RaceChip passed a milestone of 70,000 chip tuning products sold in a year, and it's continuing its strong growth course in Germany and abroad. In the meantime, the number of employees has grown to 50 passionate people. The research and technology department alone has grown larger than the original founding team of just five years ago.
Our power testing station runs pedal to the metal. RaceChip now develops chip tuning products for around five new engines each week and adapts them through comprehensive test runs.
Our dealer network has more than 2,000 active partners who now sell our chip tuning products in over 120 countries.

Our team has now grown to over 40 employees, and the company achieved 5 million euros in annual revenue. RaceChip enters the premium chip tuning market with Ultimate. Once again we were able to launch a sophisticated product for our customers with incredible market success.
Our bestseller, RaceChip Pro, has a successor this year, the Pro 2, which represents another quantum leap with regard to function and quality in its segment. Since its introduction we have sold RaceChip Pro 2 countless times worldwide. This makes our Pro series the most popular electronic performance enhancement available.
Shipping and logistics has grown so extensively that they needed to move into a new building with professional logistics infrastructure. This ensures that even more customers can benefit from sophisticated RaceChip products and our comprehensive customer service.
In order to work even closer with our international dealers, we introduced an electronic dealer portal. With it, our dealers can order products online and receive many additional services that provide ideal care for RaceChip drivers on site. With this innovation RaceChip once again proves its pioneer status in the chip tuning market.

With 34 employees at present, RaceChip continues to grow internationally. Just one year after launching our dealer network we are represented in over 100 countries thanks to our dealers.
Our website is available in increasingly more languages. By the end of 2011 it encompassed six languages, providing information for automobile enthusiasts about the high-powered benefits of RaceChip in German, English, French, Spanish, Croatian, and Turkish.

RaceChip's growth continues unabated, and our team now consists of 26 employees—with constant revenue growth. RaceChip is gaining ground outside of Germany: dealers in Scandinavia and the Ukraine represent a first step towards international growth. These partners are still on board today and have grown apace along with RaceChip itself.
We always strive to offer our customers the best possible product experience at all times. That's why in 2010 we were the first company on the market to create a databank with video installation instructions for many vehicle models – and we're still adding to it.
Also in 2010 Tuningkit, RaceChip's sister company, was founded and up to now has focussed successfully on price-conscious tuning fans. In doing so, it has benefitted greatly from the developments and experiences at RaceChip. In the same year a partnership was forged with K&N, the global leader in air filter systems, whose products are still sold successfully by RaceChip today. It's no wonder: .K&N's air filter systems are the perfect complement to our chip tuning products in modern engines.

Just one year after the company's founding, the RaceChip team has more than doubled to 12 employees, who together generated revenues of two million euros, quadrupling the previous year's revenues. At the end of 2009 RaceChip moved into new, larger spaces in Uhingen as a result of this fast growth track. As the sector's first company, RaceChip pursues a multi-product approach that conquered the market between entry-level and premium chip tuning products. RaceChip Pro is a product with premium components at an attractive price. Today we are not only the dominant provider in this sector: in addition to RaceChip Pro, in 2009 we also developed the first chip for diesel engines with pump nozzle technology and launched it on the market.

Founder Manuel Götz develops the idea for RaceChip and works together with a four-person team at the initial headquarters in Holzmaden - near Stuttgart - to make it reality. With RaceChip he lays the cornerstone for future product and brand success.
Early on Manuel Götz recognises the great potential of the Internet as a communication and sales channel for performance enhancing auxiliary devices, which up to this point were primarily sold via brick-and-mortar dealers and garages. In its very first year RaceChip achieves revenues of almost half a million euros. In addition to our engineering and technology expertise, our know-how in online marketing remains a central motor of success for the company.
We had the international market in sight just a few months after the company was founded, developing an English version of our website. The goal from the start was to offer the leading technological product on the market with RaceChip and to win customers over to our brand for the long run. Still today the engineers from our early days are part of our development team and work hard to ensure that RaceChip remains the leading chip tuning product on the market.