Why RaceChip outperforms ECU remaps
Plug & Play in 10 Minutes
RaceChip
Easy DIY installation within 10 min. No mechanical knowledge or special tools are required. RaceChip works right out of the box.
Remapping
The process of remapping is very time consuming and may damage the ECU, if done wrong.
All Power reserves activated
RaceChip
Uses software to get the best performance out of the hardware (engine). RaceChip utilizes power reserves smart and efficiently and can't be outperformed by remapping in most dimensions.
Fine-Tuning also after Installation
RaceChip
A RaceChip is programmed specifically for your engine. On top, you can fine-tune the settings after installation, if required (e.g. your specific engine variants slightly).
Remapping
Remaps may (but not have to) take standard factory model variations into account. Though, after installation they are set in stone and can't be adjusted to your individual needs later on.
Two Engine Protection Systems
RaceChip
Manufacturers protection mechanisms remain functional, plus additional RaceChip Engine Protection System. This ensures maximum safety and longevity of your car.
Remapping
Manufacturers protection mechanisms can get overwritten. This e.g. leads to your engine not detecting overheating or too much pressure anymore. I.e. wear and tear are increased above an acceptable level.
Safe Engine Warranty
RaceChip
RaceChip products comprise an engine warranty of up to 2 years, which covers all relevant engine components. Moreover, the manufacturer's engine hardware remains unaltered.
Remapping
Remapping is detected during a normal service, which definitely leads to a loss of the manufacturers' engine warranty. Most remappers do not offer a warranty on your engine.
Easy Reset to Factory Setting
RaceChip
Easy removal within a few minutes (e.g. before a service) in order to reset the car to the factory setting. Our tuning can't be overwritten during a service. It can be reprogrammed and transferred to another car.
Remapping
Removal is difficult and will remain detectable (manufacturers' ECU counts each flash). Moreover, a remap may be overwritten during the service of your car.
RaceChip: Complex technology. Simple installation.
Plug in to your engine to release its power reserves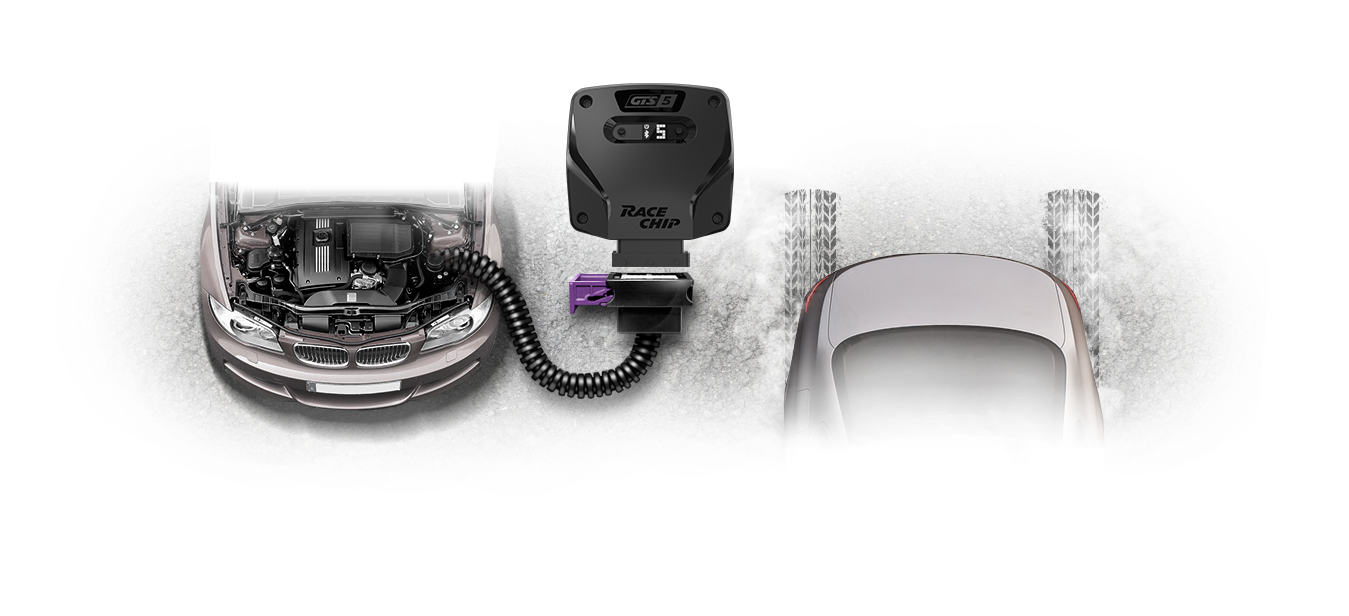 The RaceChip Plug & Drive system: The tuning chip is placed in the wiring loom between the engine controls and sensors. No specialist knowledge or tools are required for this easy process.
Unlike conventional tuning boxes RaceChips are intelligent multi-channel boxes that work like mini computers or "add-on ECUs" and modify a variety of electronic sensor signals in real time.
The new RaceChip App: Redefining Chip Tuning
Personalized engine tuning at the palm of your hand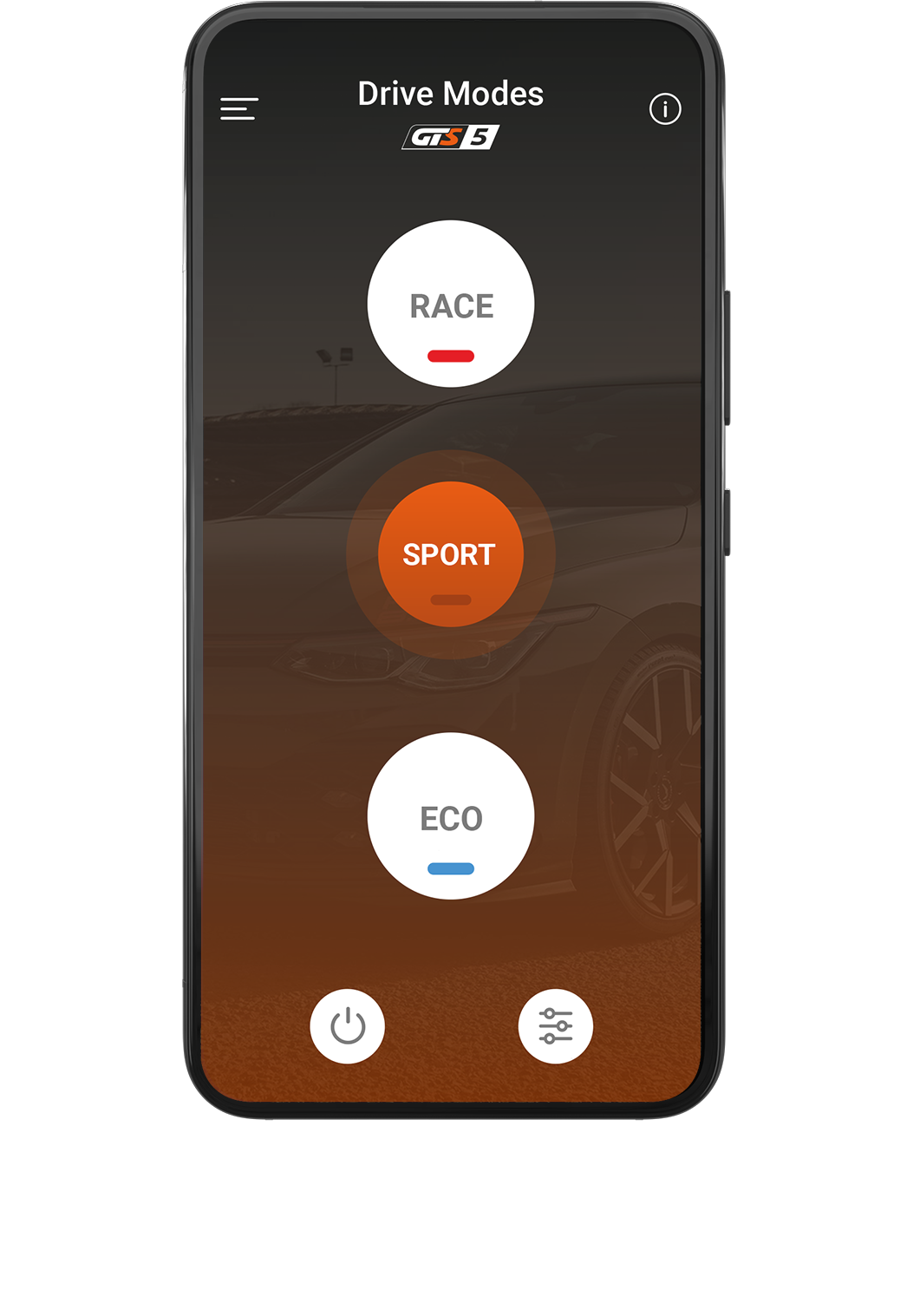 As innovation leader in the field of chip tuning, RaceChip has developed a Smartphone app that enables you to communicate via Bluetooth with your performance chip. You can switch between three performance levels, which are specifically customised for your engine: Efficiency, Sport and Race.
The integrated warm-up timer allows you to set a warm-up phase for your engine before releasing the performance upgrade. This protects the engine even in the coldest winter nights.
The tuning software is shipped pre-programmed with settings that are specifically designed for your car. However, if you wish to make fine-tuning adjustments to these settings (e.g. because the power of standard factory models can variate +/- 10%), we're able to adjust the settings for you - simply providing them as a download file.
In order to make use of this amazing extra feature please add the app control for just 50 EUR to any compatible RaceChip in the checkout process.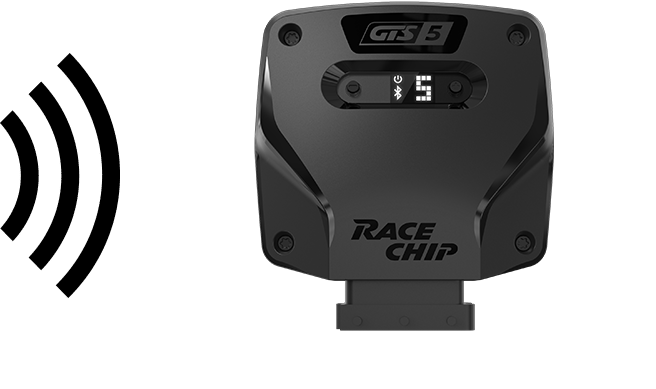 RaceChip is made in Germany
and Autobahn tested
German cars are considered the best in the world. The leading company for chip tuning also hails from Germany: Today, RaceChip products are used in more than 135 countries. Over 500,000 satisfied customers enjoy more power, faster acceleration and a sophisticated driving performance.
RaceChip products are completely developed and manufactured in Germany and extensively Autobahn tested.
RaceChip is
Autobahn tested

We offer performance improvement for most makes and models.