RaceChip gains international resellers
News & Stories | 01.01.2017 | RaceChip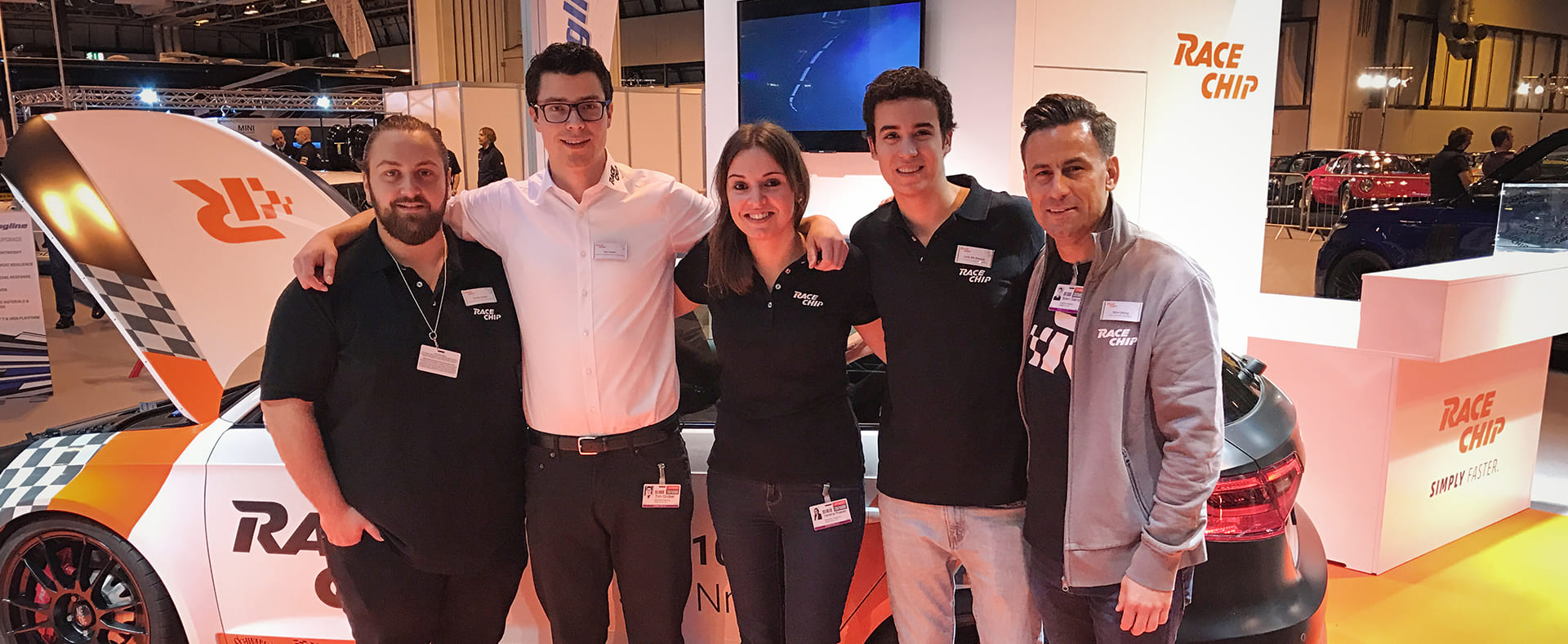 RaceChip gains international resellers
RaceChip uses winter months to increase international presence
Goeppingen, 26.01.2017. RaceChip Chiptuning, the market leader for electronic performance enhancement via auxiliary control units from Germany, was focussing on its trade show appearances and international reseller connections over the last couple of winter months. One of RaceChip's main goals for 2017 is to expand its distribution and brand presence globally, especially in the UK and the US. Therefore, RaceChip was presenting its product portfolio at the trade shows SEMA 2016 in Las Vegas and the Autosport International 2017 in Birmingham.
RaceChip uses trade shows to get in touch with distributors and resellers
To expand its distribution network, RaceChip aims to connect with resellers all over the world, focussing on distributors in Great Britain and the United States. The international trade shows, SEMA in Las Vegas and Autosport International in Birmingham, were perfectly suited for this purpose and fulfilled RaceChip's expectations for achieving this goal. At the SEMA Show, RaceChip closed several substantial trade agreements with top-selling distribution partners. At the British Autosport International, RaceChip has established even more promising contacts with various resellers. Positively surprising here was the great interest of customers that bought RaceChip products directly at the booth. Among other things the market leader attributes this success to their simple plug & drive solution as well as to an easy reset to series configurations of the vehicle. Many customers were further impressed by the innovative control of the RaceChip Ultimate Connect via smartphone app. Dr. Daniel Appelhoff, Managing Director at RaceChip, is looking forward to future relationships: "The potential for tuning boxes is extremely high in both countries, the UK and the US, which is why we expect to expand furthermore."
Product and show car presentation at trade shows
As German expert for chip tuning boxes, RaceChip offers its products not only for its domestic market, but also for international markets, like UK and the US: the RaceChip One, the RaceChip Pro 2 and the RaceChip Ultimate with optional Smartphone Connect Feature were therefore presented at both trade shows. In addition, the throttle tuning Response Control for an increased throttle responsiveness was shown to the audience. Highlighting the product presentation, RaceChip had a customized 2016 Ford Mustang 2.3 EcoBoost at the SEMA booth in Las Vegas. Its performance was enhanced from 317 HP to 365 HP and from 434 Nm to 556 Nm, so that, when equipped with a RaceChip, the performance of the EcoBoost is comparable to a V8 Mustang. The vehicle was additionally equipped with a special car wrapping, a Borla exhaust, an EF Bodykit and Toyo Tyres. The RaceChip show car Audi RS3, which highlighted the product presentation in Birmingham, was equipped with a special car wrapping, KW suspensions, rims from OZ and performance tires from Michelin. Its performance was enhanced from 367 HP to 410 HP and from 465 Nm to 520 Nm. During the show, visitors could take a closer look at the plug & drive system of the RaceChip products due to their integration in the show cars directly at the booths.
Chip tuning boxes made in Germany
RaceChip brings the highest level of German engineering to the UK and the US, specifically adapting its products to local conditions, i.e. consumer tastes, climatic or fuel conditions and, most important, to specific engine characteristics. The superior product development and the tailoring of products to more and more car manufacturers, models and engines is what RaceChip stands for. Having a distributor network of over 2,000 active partners worldwide, RaceChip is now expanding this network even more and is therefore actively searching for distributors and resellers in Great Britain and the United States.
DOWNLOAD this press release as PDF.