Chip tuning made in Germany at the SEMA show
News & Stories | 24.10.2016 | RaceChip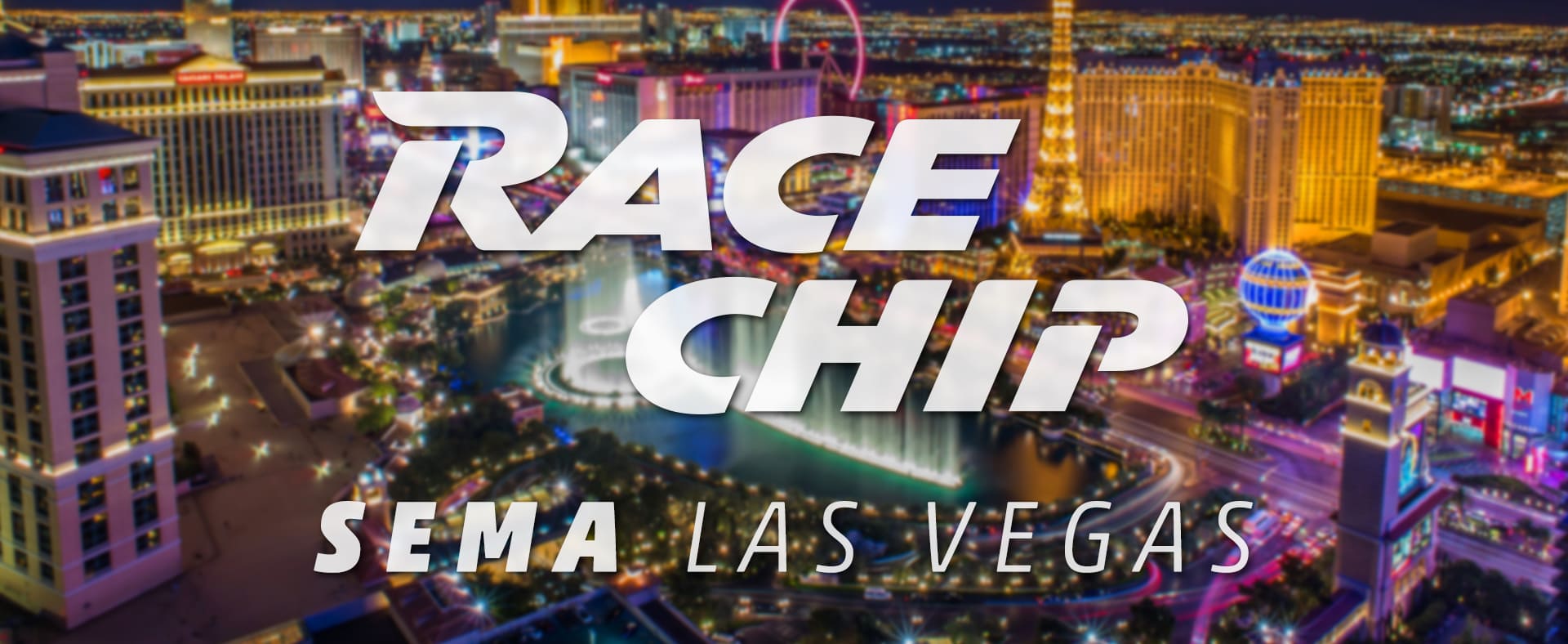 Featured product: RaceChip Ultimate connects increased performance with innovative smartphone control
Goeppingen/Las Vegas. RaceChip Chiptuning, the market leader for electronic performance enhancement from Germany and one of the most innovative companies in the chip tuning sector, will be presenting its products at the 2016 SEMA show. The featured product will be the RaceChip Ultimate Connect. The premium model with up to 30% more power and torque for a unique driving experience, includes the innovative Smartphone Connect Feature, which is taking user experience of electronic performance enhancement to a whole new level. Drivers can select from three different engine power settings, Efficiency, Sport and Race, using the RaceChip App in connection with the performance box Ultimate Connect. To expand its market and brand presence, RaceChip is looking for resellers and distributors in North America.
RaceChip's superior product platform continuing to go global
Offering professional performance enhancement via an auxiliary control unit, RaceChip is best known for greater performance, higher torque, a powerful engine boost and agile response characteristics. Performance chips by RaceChip improve the power output of almost any turbocharged diesel or petrol engine and provide customers with a unique driving experience, maximizing driving pleasure with every car. While enjoying more performance, RaceChip even helps increasing mileage. Drivers can benefit from up to 20% better fuel economy compared to the standard car, depending on their individual driving style. Since its founding in 2008, RaceChip has shown a tremendous track record within the market for electronic performance enhancement of passenger vehicles. Having started off with just four employees, RaceChip now boasts a staff of 100 car enthusiasts who have made their passion into a profession. And this is not taking the vast reseller network into consideration. As downsizing and turbocharging are ever more present in North America as well, RaceChip aims to take this market opportunity and use the SEMA show presentation to conquer the North American market. RaceChip brings the highest level of German engineering to the US, specifically adapting its products to local conditions, i.e. engine characteristics (RaceChip products are tailored to each specific engine), consumer tastes, climatic or fuel conditions, to name but a few. Having a distributor network of over 2,000 active partners worldwide, RaceChip is now looking for exclusive distributors and resellers in North America. Interested resellers are welcome to either arrange a meeting at the RaceChip booth in advance (please contact NINA SCHULZ) or come by during show hours. RaceChip managing directors Dr. Daniel Appelhoff and Dominic Ruopp will be available during the show for meetings, along with engineers from RaceChips' product development division.
Product presentation and show car
RaceChip will be presenting its three chip tuning modules to improve engine performance: RaceChip One, RaceChip Pro 2 and the RaceChip Ultimate with the optional Smartphone Connect Feature. In addition, the throttle tuning Response Control for an increased engine responsiveness will also be shown to the audience. Highlighting the product presentation, RaceChip is having a customized 2016 Ford Mustang 2.3 EcoBoost at the booth. The vehicle is also equipped with a special car wrapping, a Borla exhaust and Toyo Tyres. The featured product, the RaceChip Ultimate Connect, installed in the engine bay, communicates via Bluetooth with the driver's smartphone. The driver can choose between three levels of performance on the RaceChip app: Efficiency, Sport and Race. The Race mode adds up to 30 % more power and torque, thus providing the highest performance level, taking the driving experience to a whole new level. An unstressed cruising mode, also focused on increasing mileage, is provided by Efficiency. The Sport mode offers the best of both worlds. Those three performance levels are individually specified for each engine and extensively tested by the engineering experts at RaceChip. This is how RaceChip keeps its performance promises.
The RaceChip app is available for all current Android and iOS devices.
RaceChip was already a technological pioneer with its inclusion of SENT technology in the chip tuning market (SENT is a new serial protocol for sensors in the automotive industry). With its development of electronic performance enhancements that utilise both, analogue and digital sensor data, the Goeppingen-based company has positioned itself ahead of the competition, introducing such products well before its key competitors. Focusing on innovation and product quality has set the basis for RaceChip taking the lead in the market after just a few years from its foundation.

The RaceChip booth #34265 is located in the Upper South hall at the Las Vegas Convention Centre.
DOWNLOAD this press release as PDF.